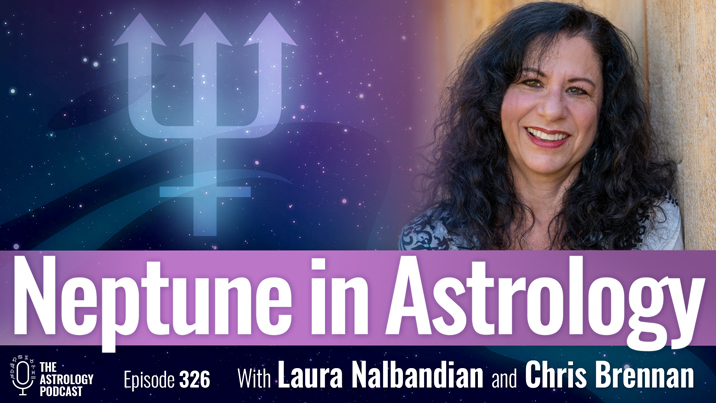 In episode 326 astrologer Laura Nalbandian joins the show to talk about the meaning of the planet Neptune in astrology, and what it signifies in a birth chart.
In astrology Neptune is generally said to signify illusions, mysticism, escapism, spiritualism, confusion, romanticism, the blurring of boundaries, extreme sensitivity, compassion, and transcendent experiences.
Neptune is one of the more recently discovered outer planets, having only been discovered in 1846, although astrologers have figured out its meanings pretty well after nearly two centuries of working with it.
This is part of a series of episodes where we do a deep-dive into the meanings of each of the planets in astrology, by reading some excerpts from different astrologers to see how they have talked about the planet in the past, and then using that as a jumping off point for discussion.
Laura is organizing two astrology conferences happening in Seattle and Denver in May and August of 2022, and you can find out more information here:
This episode is available in both audio and video versions below.
Timestamps
Here are some timestamps for topics covered at different points in the episode:
00:00:00 Intro
00:00:38 ISAR 2022 conference
00:04:20 Laura's natal chart and background
00:11:05 Episode 75 about Laura's mother Maggie Nalbandian
00:11:40 Laura's spirituality and astrology background
00:15:28 Richard Tarnas on Neptune significations
00:25:00 The illusion that we are separate
00:28:37 Saturn vs. Neptune
00:30:40 Jupiter vs. Neptune
00:33:00 Uranian clarity vs. Neptune clarity
00:34:40 LSD and Neptune
00:37:30 Neptune and transcendent experiences
00:48:56 Mercury and Neptune aspects
01:00:38 Venus and Neptune aspects
01:12:30 Steven Forrest Neptune significations
01:14:25 Neptune and confusion
01:15:17 Neptune and impermanence
01:19:59 Neptune and hyper-sensitivity
01:28:08 Reinhold Ebertin on Neptune significations
01:30:08 Neptune and Jupiter
01:40:05 Mutable signs
01:41:40 Virgo and the 6th house
01:42:00 Meditation
01:44:26 Neptune and beauty
01:48:30 Saturn and Neptune
01:55:30 NORWAC 2022 conference
01:58:00 International Association of Ethics in Astrology (IAEA)
02:01:40 Laura's school of astrology
02:02:30 Influx of young astrologers
02:10:22 Organization for Professional Astrology (OPA)
02:14:10 Closing remarks
Watch the Video Version of This Episode on Neptune
Watch the video version of this episode on the meaning of Neptune:
–
Transcript
A full transcript of this episode is available: Episode 326 transcript
Listen to the Audio Version of This Episode
You can either play the audio version of this episode of the podcast directly from the website or download it as an MP3 to your device by using the buttons below:
Podcast: Play in new window | Download (Duration: 2:15:49 — 124.7MB)
Subscribe: Google Podcasts | Stitcher | RSS | More