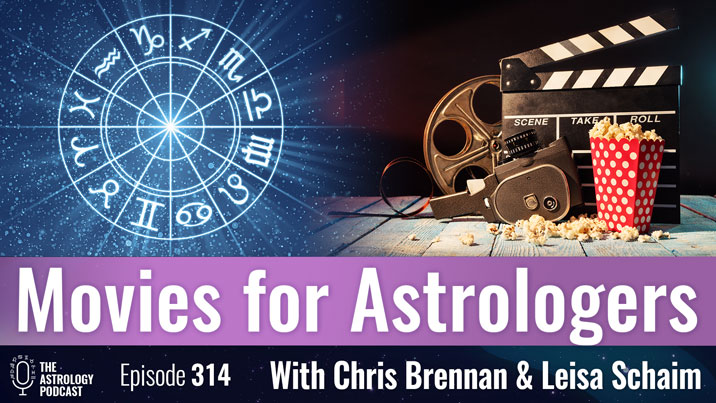 In episode 314 astrologers Chris Brennan and Leisa Schaim talk about some movies that contain astrological themes or allegories that are relevant to astrologers.
Most of the discussion focuses on films that are not directly related to astrology, but instead focus on themes that are relevant to astrologers, such as fate, free-will, and the nature of time.
We also touch on some documentaries that are interesting from an astrological perspective, which focus on topics such as the nature versus nurture debate, or the issue of twins.
While most of the movies discussed are ones we enjoyed, towards the end we touch on a few films that address astrology more directly, but were not necessarily particularly good.
Please note that there are lots of spoilers in this discussion, so if you haven't seen the films listed below, then you probably shouldn't listen to our discussion unless you are alright with hearing the ending ahead of time.
This episode is available in both audio and video versions below.
Timestamps and Movies Discussed
Here is a list of timestamps for each of the films we discussed:
00:00:00 – Introduction
00:02:12 – The Adjustment Bureau
00:25:18 – The Matrix
00:36:26 – Slumdog Millionaire
00:44:10 – The Up Series
01:05:24 – Three Identical Strangers
01:32:20 – Stranger Than Fiction
01:48:16 – Transition into movies that are not as good
01:53:30 – Five Star Day
02:03:12 – What's Your Raashee?
02:15:19 – Return of the Magi
02:27:09 – The lack of good astrology documentaries
02:34:14 – Concluding remarks
Watch the Video Version of This Episode
Watch the video version of this episode on astrology movies here:
–
Transcript
A full transcript of this episode is available: Episode 314 transcript
Listen to the Audio Version of This Episode
You can either play the audio version of this episode of the podcast directly from the website or download it as an MP3 to your device by using the buttons below:
Podcast: Play in new window | Download (Duration: 2:37:36 — 144.6MB)
Subscribe: Google Podcasts | Stitcher | RSS | More