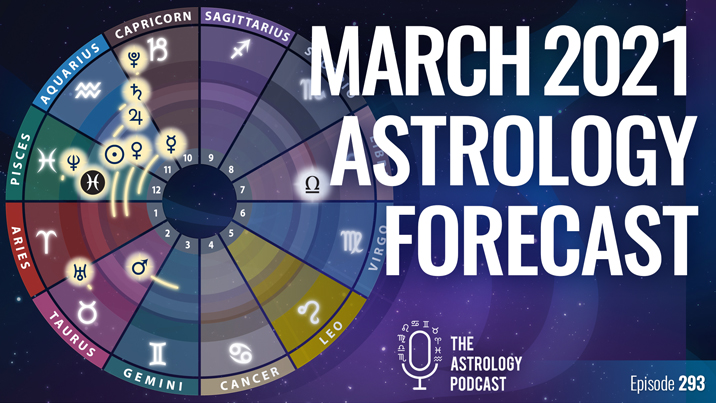 In episode 293 astrologers Kelly Surtees, Austin Coppock, and Chris Brennan look at the astrology forecast for March of 2021.
March features the end of the sign-based square between Mars and Saturn that began way back in mid-2020, plus a shift of planets into mutable signs, and the beginning of a new Venus synodic cycle.
Towards the end of the episode we talk about a few miscellaneous topics that came up on the podcast this month, such as the meanings of the north and south nodes, the different definitions of the void of course Moon, and whether astrology is a form of divination like tarot.
This episode is available in audio and video versions below.
Archetypal Explorer
Our sponsor this month is Archetypal Explorer, which offers a visual astrology program for the savvy enthusiast:
Current Offerings From Kelly, Austin, and Chris
Here are links to some of our current offerings this month:
Planetary Alignments for March 2021
Here are the planetary alignments for March:
Coming off of the Full Moon in Virgo Feb 26
Saturn barely more than a degree separating from Uranus
Mars into Gemini March 3
New Moon in Pisces March 13
Mercury into Pisces March 15
Sun into Aries March 20
Venus into Aries March 21
Mercury squares Mars March 23
Sun conjunct Venus March 26
Full Moon in Libra March 28
Auspicious Astrological Date for March
The most auspicious astrological date we could find in March is:
March 1, 2021, at approximately 10:30 AM local time, with Gemini rising
There are a few other charts for March that are available in our private subscriber-only electional astrology podcast.
Timestamps
Here are some timestamps for topics covered at different points in the episode:
00:00:00 Intro
00:03:06 March 2021 overview
00:04:50 February 2021 review
00:17:21 Mars-Saturn square finally over
00:22:04 Kelly's take on March
00:22:28 Austin's take on March
00:23:15 Mutable sign qualities
00:26:50 Sun and Venus in Pisces
00:27:14 Venus under the beams
00:34:52 March 1
00:35:22 Final Mercury-Jupiter conjunction 3/4
00:37:32 Mars in Gemini
00:38:55 Mercury in Pisces
00:39:40 Mercury Square Mars 3/23
00:40:30 March auspicious electional astrology chart
00:46:17 Update on Chris' astrology courses
00:48:33 New Moon in Pisces 3/13
00:52:40 Halfway point of eclipse cycles
00:57:40 Mercury enters Pisces 3/15
01:00:00 Mercury-Neptune conjunction
01:07:55 Archetypal Explorer
01:11:44 The Sun and Venus enter Aries 3/20-3/21
01:14:40 Venus-Sun conjunction in Aries
01:17:40 Full moon in Libra 3/28
01:23:10 Malefic contrary to sect benefits?
01:25:45 More about Full Moon in Libra
01:27:20 More about Venus Sun in Aries
01:30:28 Mars trine Saturn 3/21
01:35:49 Mars North Node conjunction 3/25
01:46:10 The pacing of March
01:49:11 More about Rahu
01:52:35 Astrology community and popularity
01:57:40 Void of Course Moon
02:15:41 Seeking a name for a double transit
02:21:30 Tarot and astrology as divination
02:26:00 Upcoming events
02:31:06 Closing remarks
Watch the Video Version of This Episode
You can watch the video version of our March astrology forecast here:
–
Listen to the Audio Version of This Episode
You can either play the audio version of this episode of the podcast directly from the website or download it as an MP3 to your device by using the buttons below:
Podcast: Play in new window | Download (Duration: 2:33:19 — 140.7MB)
Subscribe: Google Podcasts | Stitcher | RSS | More