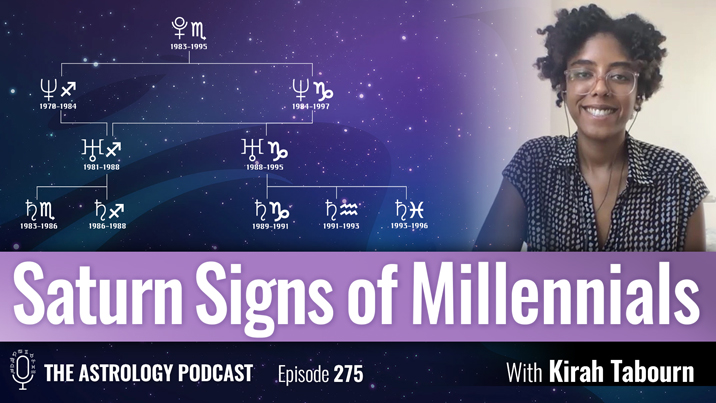 In episode 275 astrologer Kirah Tabourn joins the show to talk about the concept of dividing groups into of people into generations astrologically, and looking at the different sub-generations of millennials based on their Saturn sign.
At the start of discussion we talk about how modern astrologers divide different demographic cohorts based on what sign of the zodiac Pluto was in when they were born, such as the Baby Boomer generation that tended to coincide with Pluto in Leo.
Later we focus on the millennial generation in particular, which tend to have Pluto in Scorpio, and discuss how it can be divided into sub-generations based on the sign that Saturn is located in.
This discussion is based on a series of articles that Kirah wrote on her blog last summer on the Saturn signs of millennials.
Kirah is the host of a new astrology podcast called The Strology Show, which you can find on her website:
https://www.thestrology.com/thestrologyshow
This episode of the podcast is available in both audio and video versions below.
Timestamps
Here are some timestamps for topics covered at different points in the episode:
00:00:00 Intro
00:00:53 Kirah's work
00:04:17 Pluto generations
00:07:17 Baby Boomers and Gen X
00:13:50 Pluto in Scorpio generation
00:18:51 Saturn sub-generation dates
00:20:33 Why Saturn as marker
00:32:00 Saturn in Scorpio
00:45:28 Saturn in Sagittarius
00:59:52 Saturn in Capricorn
01:22:50 Saturn in Aquarius
01:49:49 Saturn in Pisces
02:09:18 Saturn in Capricorn story request
02:10:11 Tabourn's announcements
02:14:17 Conclusion
Watch the Video Version of This Episode
Here is the video version of this episode on astrological generations:
–
Listen to the Audio Version of This Episode
You can either play the audio version of this episode of the podcast directly from the website or download it as an MP3 to your device by using the buttons below:
Podcast: Play in new window | Download (Duration: 2:18:03 — 126.5MB)
Subscribe: Google Podcasts | RSS | More