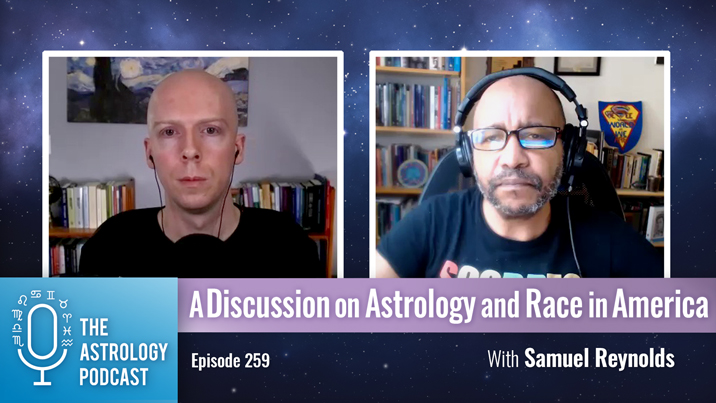 On episode 259 of the podcast astrologer Sam Reynolds joins the show to discuss the issue of racism in America, and to talk about some related topics that have come up in the astrological community in the past two weeks.
These discussions resulted from the murder of George Floyd on May 25, 2020, and the resulting protests across the United States.
In the first part of the show we discuss some of the underlying issues in the country related to systemic racism and police violence, while later we transition into talking about some of the discussions and activism that have sprung up in the astrological community recently.
Along the way we touch on broader themes about what it is like to be a black astrologer in America, efforts Sam has made to bring greater diversity to the astrological community, and what can be done to help these efforts in the future.
Sam has given a couple of related related talks in the past year, including The Astrological Destiny for African Americans for the Fresh Voices in Astrology summit, and a talk titled Race, Justice, and America's Pluto Return for the Association for Young Astrologers.
You can find out more about Sam's work on his website:
This episode is available in both audio and video versions at the bottom of this page.
Show Notes
Here are some of the topics we discussed, with links to related resources:
Donations and Resources
Please consider making a donation for the victims, protesters, and related organizations:
https://blacklivesmatters.carrd.co/#donate
–
Sam's recommended reading list:
Watch the Video Version of This Episode
Here is the video version of my discussion with Sam Reynolds:
–
Transcript
A full transcript of this episode is available: Episode 259 transcript
Listen to the Audio Version of This Episode
You can either play the audio version of this episode of the podcast directly from the website or download it as an MP3 to your device by using the buttons below:
Podcast: Play in new window | Download (Duration: 2:15:27 — 93.1MB)
Subscribe: Google Podcasts | RSS | More