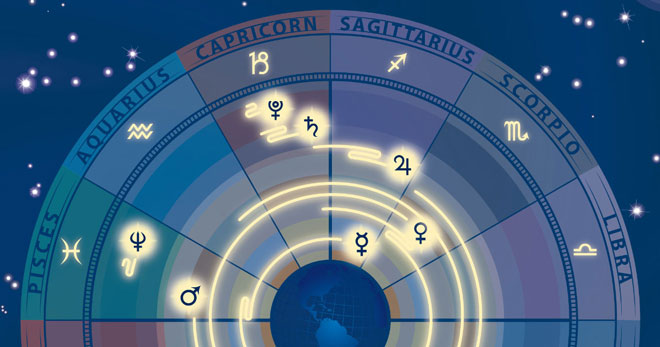 In episode 187 of the podcast astrologers Kelly Surtees, Austin Coppock, and Chris Brennan provide an overview of the astrology of 2019, and discuss the major planetary alignments that will occur over the course of the next twelve months.
The astrology of 2019 features solar eclipses occurring in Capricorn and Cancer, Uranus moving into Taurus, three Jupiter-Neptune squares, the Saturn-Pluto conjunction getting very close, and much, much more.
In this episode we went through each month in order, starting with January, and provided an in-depth discussion of the major planetary transits that will occur.
This episode is available in both audio and video versions, and links to both are below.
News and Announcements
Our 2019 Astrology Calendar Posters are now available! These are full poster-sized versions of the artwork we use on the forecast episodes each month.
Kelly recently started a new podcast and forecast series, and has a bunch of events and classes coming up in 2019, which you can find out about at KellysAstrology.com
Austin is getting ready to launch a new podcast, and also has a number of classes and events in 2019, which you can find out about at AustinCoppock.com
Chris and Leisa just released their 2019 Electional Astrology Report, which contains the best election they could find for each month in 2019.
The podcast feed should now display all past episodes, right on your app or mobile device. Some people have reported errors with some apps like Pocket Casts, and if this happens try unsubscribing and resubscribing on your app. If this doesn't fix it then contact Chris.
Auspicious Electional Chart for January
The auspicious election this month that was chosen by Leisa Schaim is set for:
There are a few more electional charts that we found for January, which are available in our private subscriber-only podcast on auspicious elections that was released today.
Watch the Video Version of the 2019 Astrology Forecast
Here is the video version of our 2019 astrology forecast episode:
–
Listen to the Audio Version of Our 2019 Astrology Forecast
You can either play this episode of the podcast directly from the website or download it as an MP3 to your computer by using the buttons below:
Podcast: Play in new window | Download (Duration: 2:38:12 — 109.0MB)
Subscribe: Google Podcasts | RSS | More