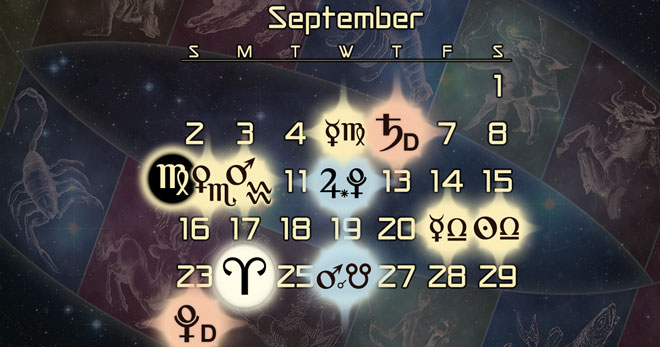 Episode 170 of the podcast features a discussion between Chris Brennan, Kelly Surtees, and Austin Coppock where we provide an overview of the major planetary alignments happening in September of 2018.
This month a number of planets are finally moving direct again, after a period where several were retrograde at the same time over the past few months.
Other major alignments this month include Mars squaring Uranus for the third and final time, Venus moving into Scorpio and preparing to turn retrograde next month, and Jupiter making an exact sextile to Pluto.
At the top of the episode we discuss the recent Vox Explained episode on astrology that appeared on Netflix recently, and also talk about some other astrology podcasts that have been launched over the past few months.
Below you will find the show notes, followed by links to download the recording of this episode, which is available in both audio and video versions.
First, we have a bunch of news and announcements.
New Professional Astrologer Course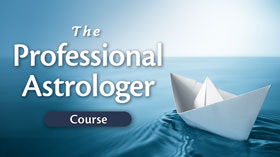 Chris just launched a new course on how to become a professional astrologer and create a successful astrological practice.
It is called The Professional Astrologer Course.
The purpose of the course is to help students make the transition into practicing astrology professionally, so that you can eventually make it your primary vocation.
We also focus on some different strategies for growing your audience and business, in order to achieve success and financial stability in your chosen career field.
The course was just launched this week, and you can get in now at the introductory price.
New Shirts from The Astrology Podcast
Listeners of the podcast have been asking for merch for a couple of years now, and I'm excited to announce that we have just launched a new line of branded t-shirts!

We have about a dozen different shirt designs up now, and there will be more coming soon. You can see all of the shirts we are currently offering on our page on Amazon:
The Astrology Podcast T-Shirts
The shirts come in a variety of different colors and sizes, and they are printed on super soft premium quality t-shirt blanks from Bella + Canvas. They tend to have a slimmer fit, so you may want to order one size larger than your normal size to get the right fit.
We are also actively soliciting new shirt designs and ideas, so if you want to pitch one please email Chris at astrologue@gmail.com.
If you end up getting a shirt then please send in a picture of yourself wearing it, and we will probably build a gallery of listener submitted pictures in the next few weeks!
Austin's Event in Australia This November
So Below: A Drawing Together of Human, Star and Stone
An afternoon discussion of astrology, magic and history with Austin Coppock and Gordon White, followed by an evening of drinks at Bakehouse Studios, in Melbourne, Australia on November 24th.
September Giveaway with Astrology Hub
For this month's patron raffle we are giving away three passes to an upcoming online event that is being hosted by Astrology Hub. Here is the description of the event:
This September, join Astrology Hub's free online event, Astrology Summit 3.0: Raising Consciousness and Deepening Your Spiritual Path.
Over the course of seven days, learn how physics and spirituality are merging through astrology and how to use it all to shift your reality.
You'll hear from some of the world's top astrologers and spiritual leaders such as: Rick Levine, Teal Swan, David Cochrane, Sahara Rose, The Leo King, Jennifer Sodini, Nadiya Shaw, and many more.
For more info about the event visit: http://summit.astrologyhub.com/astrologypodcast
Other Astrology Podcasts We're Listening To Lately
At the top of the podcast Chris mentions several new astrology podcasts that he has been listening to lately, and here are the links to those so that you can check them out:
Major Planetary Alignments for September 2018
Here are some of the major transits for September that we cover in this episode:
Mars just stationed direct in Capricorn before the month begins.
Venus enters shadow at 25 Libra around September 2.
Mercury moving fast again, leaves shadow at 23 Leo by 1st of September.
Mercury moves into Virgo September 5

Hampered by opposition with Neptune for a while this month.

Saturn stations direct in Capricorn September 6

Final pass for some late Saturn in Sag Saturn returns.

New Moon in Virgo September 9
Venus moves into Scorpio September 9

First of three oppositions with Uranus Sept 12

Moon conjoins in Scorpio around the same time
T-square with Mars having entered back into Aquarius.

Mars moves into Aquarius September 10 (check date on this)
Jupiter sextile Pluto exact September 12
Mars square Uranus exact September 18
Mercury moves into Libra September 21
Sun moves into Libra September 22
Full Moon in Aries September 24
Mars conjunct south node September 26
Pluto stations direct in Capricorn September 30
Auspicious Electional Chart for September
The auspicious election this month that was chosen by Leisa Schaim is set for:
Chris actually forgot to talk about the featured election for the month in the forecast episode itself, so we recorded a separate video to talk about the electional chart for September on YouTube:
There are three more electional charts that we found for September, which are available in our private subscriber-only podcast on auspicious elections that was released today.
If you would like to get access to that discussion, then all you have to do is become a patron of The Astrology Podcast on the $5 or $10 tier through our page on on Patreon, and then you will get access to the 30-minute Auspicious Elections Podcast immediately.
Watch the Video Version of the September Forecast Episode
Here is the video version of our September 2018 astrology forecast:
–
Listen to the Audio Version of the September Forecast Episode
You can either play this episode of the podcast directly from the website or download it as an MP3 to your computer by using the buttons below:
Podcast: Play in new window | Download (Duration: 2:15:01 — 62.2MB)
Subscribe: Google Podcasts | Stitcher | RSS | More