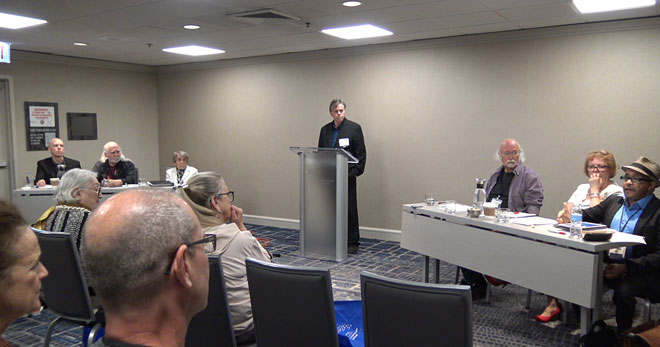 This is a recording of a panel discussion that took place at the United Astrology Conference in Chicago last month titled "Is Prediction Killing Astrology?"
The panel was organized by the International Society for Astrological Research (ISAR) as a free pre-conference event that took place on May 23, 2018, as a precursor to the United Astrology Conference, which then took place over the course of the following week.
The panel featured the following astrologers, listed from right to left as they appear in the picture from the panel above: Samuel F. Reynolds, Christeen Skinner, Steven Forrest, ISAR Vice President David Railey as moderator, Chris McRae, Rick Levine, and Chris Brennan.
Here is the description of the event that was put out by organizers ahead of the panel: "A 6-member panel will discuss and debate this highly-charged topic, with the purpose of creating awareness – and possibly a consensus – on the role of the astrologer addressing the issue of future events."
The panel was partially organized as a result of some of the failed predictions surrounding the 2016 US presidential election, and discussions that resulted from it in the astrological community, including a piece by Steven Forrest titled The Perils of Astrological Prediction.
The panel discussion ended up focusing on the role of prediction in astrology, and whether astrologers can and should predict events.
The panelists were selected through a vote by the ISAR membership last year.
There is both an audio and a video version of the recording of the panel available, and you can find links to both below.
Watch the Video Version of the Prediction Panel
You can watch the video recording of the panel on Youtube here:
–
Listen to the Audio Recording of the Prediction Panel
You can listen to the audio recording of the prediction panel by using the buttons below:
Podcast: Play in new window | Download (Duration: 2:38:33 — 72.9MB)
Subscribe: Google Podcasts | Stitcher | RSS | More