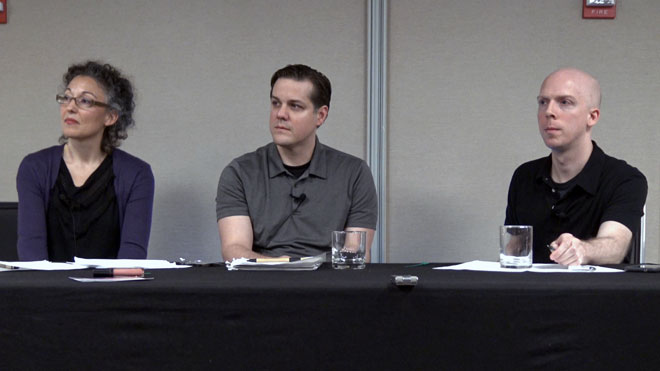 Episode 159 is a live podcast discussion that was recorded in front of an audience at the United Astrology Conference in Chicago on May 27, 2018, with Kelly Surtees, Austin Coppock, and Chris Brennan.
This was our first time hosting an event like this, or recording an episode of the podcast in person in front of an audience, so it was a bit of an experiment, but in the end it was a success!
Part of the purpose of the event was to have a discussion about the future of astrology, and specifically the question of what historians will say when they look back on the current period that we live in now in the astrological community, and what they will identify as some of the most important emerging trends.
The other part of the purpose of the event was to get together a group of podcast listeners and give them a chance to meet and connect with each other at the conference, especially since for many of them it was their first conference.
Towards the end we also did a Q&A with the audience, and passed a mic around to answer some questions.
This episode is available in both an audio and a video version, and you can find links to both below.
Special thanks for Caleb Grayson for handling the audio production for the event, to Laura Nalbandian for giving us the space, Tony Howard for some last minute help recording video footage, Paula Belluomini for designing the invitations, Stephen Coppock for audio editing/post-production, Peter LeBlanc for helping us get set up for the event on short notice, and to everyone who attended the event that night!
Gallery of Images from the Event
Pictures taken at the event by Nicholas Polimenakos, Jenn Zahrt, and Kent Bye:
–
Watch the Video Version of This Episode
Here is the video version of this episode of the podcast:
–
Listen to the Audio Version of This Episode
You can either play this episode of the podcast directly from the website or download it as an MP3 to your computer by using the buttons below:
Podcast: Play in new window | Download (Duration: 1:32:50 — 42.9MB)
Subscribe: Google Podcasts | RSS | More