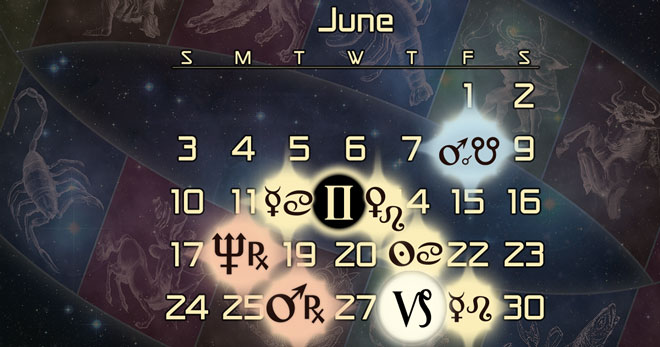 In episode 158 of the podcast astrologers Kelly Surtees, Austin Coppock, and Chris Brennan discuss the astrological forecast for June of 2018, which features a prominent Mars retrograde period beginning in Aquarius.
This episode was recorded a couple of weeks ago, just before we all left for the United Astrology Conference in Chicago. The conference was a blast, and we are hoping to record a post-conference recap discussion sometime soon.
We also recorded a live episode of the podcast in front of an audience at the conference, and that will be released as one of the early episodes of June pretty soon as well.
This forecast episode of the podcast is available in both audio and video formats, and you can find links to both below.
Major Alignments for June
Here are the major astrological alignments for June:
June 5, Sun conjunct Mercury, 15 Gemini (Sun-Mercury is almost perfectly square Neptune!  And the Moon is conj Neptune on the same day as the cazimi. )
June 8, Mars deep in shadow, conj South Node, Rx station 7 Aquarius
June 12, Mercury into Cancer
June 13, Venus into Leo
June 13, Gemini New Moon 22 degrees
June 18, Neptune station, 16 Pisces
June 21, Sun into Cancer (solstice)
June 26, Mars station, 9 Aquarius
June 27, Sun opposite Saturn 5 Cancer/Cap
June 28, Capricorn Full Moon 6 Cap (conjunct Saturn)
Auspicious Electional Chart for June
The auspicious election this month is set for:
June 11 2018 at 7:30 AM with Cancer rising
There are three more electional charts that we found for June, which will be presented in our private subscriber-only podcast on auspicious elections that was released last week.
If you would like to get access to that discussion, then all you have to do is become a patron of The Astrology Podcast on the $5 or $10 tier through our page on on Patreon, and then you will get access to the 40-minute Auspicious Elections Podcast immediately.
Watch the Video Version of this Episode
Here is the video version of this month's forecast episode:
Listen to the Audio Version of This Episode
You can either play this episode of the podcast directly from the website or download it as an MP3 to your computer by using the buttons below:
Podcast: Play in new window | Download (Duration: 1:46:52 — 49.3MB)
Subscribe: Google Podcasts | Stitcher | RSS | More