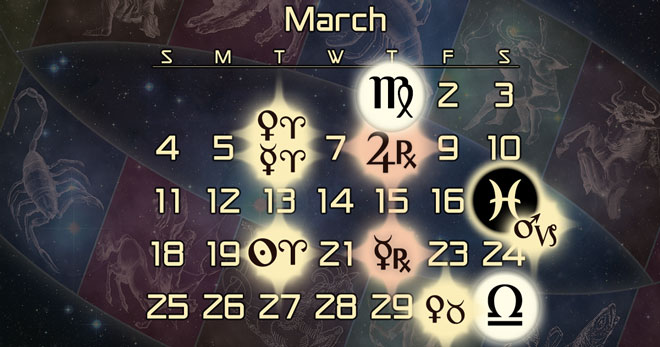 In episode 146 astrologers Austin Coppock and Kelly Surtees join the show to talk about the astrological forecast for March of 2018.
The forecast for March features a shift of all of the inner planets from Pisces to Aries, Jupiter stationing retrograde in Scorpio, and Mars moving into Capricorn where it joins Saturn and Pluto.
At the top of the episode we discuss a recent controversy in the astrological community, where Glenn Perry went to India and gave a talk attacking the sidereal zodiac.
As usual, the artwork for this episode is from the 2018 PlanetWatcher Calendar.
Below you will find the show notes, followed by links to download or stream the recording of this episode of the podcast.
This month's episode is available in both audio and video versions, and you will find links to both at the bottom of this page.
Timestamps
Timestamps for different parts of the episode, in case you want to skip ahead to a segment:
00:00 – 09:35: Introductions, news & announcements, secondary progressions.
09:35 – 25:20: Glenn Perry sidereal zodiac lecture controversy.
25:20 – 30:44: Regulus awards voting closes.
30:44 – end: Forecast for March
35:00  – 43:01: Auspicious electional chart for March
News and Announcements
At the top of the show we talk about some news and announcements:
Major Astrological Alignments in March 2018
Full Moon in Virgo on March 1
Venus and Mercury ingress into Aries March 6
Jupiter stations retrograde in Scorpio March 8
Pisces New Moon March 17
Mars ingress into Capricorn March 17
Sun into Aries March 20
Mercury stations retrograde March 22
Venus into Taurus March 30
Full Moon in Libra March 31
Auspicious Electional Chart for March 2018
Here is the primary auspicious electional chart that we highlighted for March, which was picked out by electional astrologer extraordinaire Leisa Schaim:
There are five more electional charts that we found for March, which will be presented in our private subscriber-only podcast on auspicious elections that is released today.
If you would like to get access to that discussion, then all you have to do is become a patron of The Astrology Podcast on the $5 or $10 tier through our page on on Patreon, and then you will get access to the 40-minute Auspicious Elections Podcast immediately.
Watch the Video Version of this Episode
Here is the video version of this month's forecast episode:
.
Listen to the Audio Version of This Episode
You can either play this episode of the podcast directly from the website or download it as an MP3 to your computer by using the buttons below:
Podcast: Play in new window | Download (Duration: 1:54:09 — 52.6MB)
Subscribe: Google Podcasts | Stitcher | RSS | More