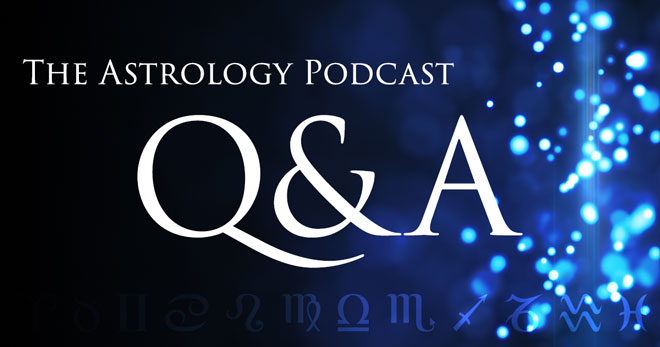 In episode 133 astrologer Adam Elenbaas joins the show to help me answer some questions that were submitted by listeners of the podcast over the past few months.
As with episode 127, we got stuck on the first set of questions, and ended up spending the entire 90 minutes talking about issues related to learning astrology, starting to learn how to read charts, and making the transition from student to practitioner of astrology.
We plan to record a followup where we answer the rest of the questions submitted by listeners, and that will be released early next month.
Below you will find the show notes, which contain an outline of some of the points that we touched on in the discussion, followed by links to download or stream the recording of this episode of the podcast at the bottom of the page.
Questions
Here are the questions that we answered and used as starting points for the discussion in this episode, which were submitted by a listener and patron named Michael Beeson:
What are the mistakes most beginners make when they start to learn astrology?
What are your core principles when you interpret a chart, and where does construction of delineation come in?
What do you believe a consultation should look like and what purpose it should serve for the client?
What 20% of astrological tools and techniques should I focus on to cover 80% of the tasks of an astrologer?
Who are the best astrologers you know, how did they develop their practice?
Outline
Some points touched on or discussed during the course of this episode:
Frustration of beginners regarding language acquisition.
The need for immersion in order to truly learn chart delineation.
Adam on his school's approach to training.
The need for astrology residency programs
The issues with lack of structure.
Therapy vs astrology.
What does a standard astrological consultation look like?
Case studies versus live demonstrations of consultations or technique.
Abstract knowledge vs experience
Making sure that you understand a concept or technique correctly before rejecting it.
Avoiding becoming overly focused on minor things that aren't important in charts.
Transcript
A full transcript of this episode is available: Episode 133 transcript
Listen to the Audio Version of This Episode
You can either play this episode of the podcast directly from the website or download it as an MP3 to your computer by using the buttons below:
Podcast: Play in new window | Download (Duration: 1:47:10 — 49.4MB)
Subscribe: Google Podcasts | Stitcher | RSS | More