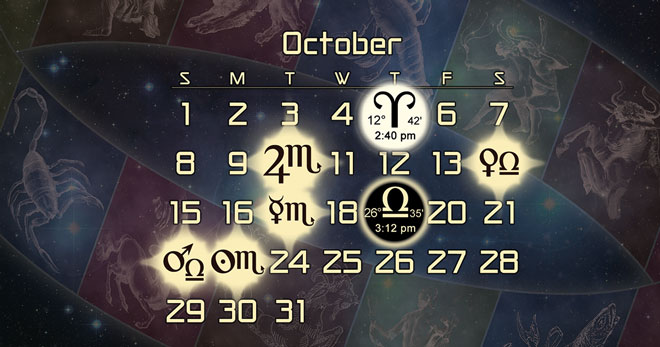 In episode 126 of the podcast astrologers Austin Coppock and Kelly Surtees join the show to talk about the astrological forecast for October of 2017, which includes Jupiter moving into Scorpio, lunations in Aries and Libra, and more.
The show opens with a brief discussion about relocational astrology, which was covered earlier this month in episode 123, and Kelly and Austin share some interesting personal experiences with the subject.
Later in the episode we also feature an auspicious electional chart for the month of October, which is a Venus election with Libra rising and Venus in Libra in the first house.
The artwork for this episode comes from the 2017 Planet Watcher astrology calendar.
Below you will find the show notes, followed by links to download or stream the recording of this episode of the podcast.
This month's episode is available in both an audio version and a video version, and you will find links to both at the bottom of this page.
News and Announcements
At the top of the show we discuss some news and announcements:
Chris just started a new private monthly show called The Casual Astrology Podcast, which is available as a new benefit for patrons of the show who sign up on the $10 tier through our page on Patreon. This series will feature being the scenes news about the show, some topics segments that didn't make it into the main podcast, and occasionally some exclusive interview segments. The first episode was just released to all patrons on September 28.
The ability to attend the live taping of each month's forecast episode has just been made a benefit for patrons on the $3 tier and above.
Kelly just published the 2018 WellBeing Astrology Guide. We are going to give away two copies to two lucky patrons this week.
Kelly is giving a workshop on an Introduction to Hellenistic and Traditional Astrology on in Sydney on October 6.
Initial Discussion and Timestamps
We talk about news, announcements, and relocational astrology for a bit at the top of the show.
If you want to jump forward to the forecast segment of the episode, we start that discussion at 28:00 minutes into the audio recording.
Major Astrological Alignments in October
Full Moon in Aries October 5.
Mercury-Sun superior conjunction Oct 8.
Jupiter ingresses into Scorpio October 10.
Venus ingresses into Libra October 14.
Mercury ingresses into Scorpio October 17.
Mercury conjoins Jupiter in Scorpio Oct 18.

First planet to conjoin Jupiter in his new sign.

New Moon in Libra October 19.

This Sun/Moon conjunction is opposite Uranus within 4 minutes! Another sync with the last Jupiter-Uranus.

Mars ingresses into Libra October 22.
Sun ingresses into Scorpio October 23.
Sun-Jupiter conjunction Oct 26.

This restarts the Sun-Jupiter synod in Scorpio. Seeds of the new Jupiter in Scorpio program.
Auspicious Electional Chart for October
Here is the primary auspicious electional chart that we highlighted for October:
There are three more electional charts that we found for October, which we will be talking about in our private subscriber-only podcast on auspicious elections that will be released tomorrow.
If you would like to get access to that discussion, then all you have to do is become a patron of The Astrology Podcast on the $5 or $10 tier through our page on on Patreon, and then you will get access to the 45-minute Auspicious Elections Podcast as soon as it is released.
Watch the Video Version of this Episode
Here is the video version of this month's forecast episode:
Listen to the Audio Version of This Episode
You can either play this episode of the podcast directly from the website or download it as an MP3 to your computer by using the buttons below:
Podcast: Play in new window | Download (Duration: 1:52:08 — 51.7MB)
Subscribe: Google Podcasts | RSS | More