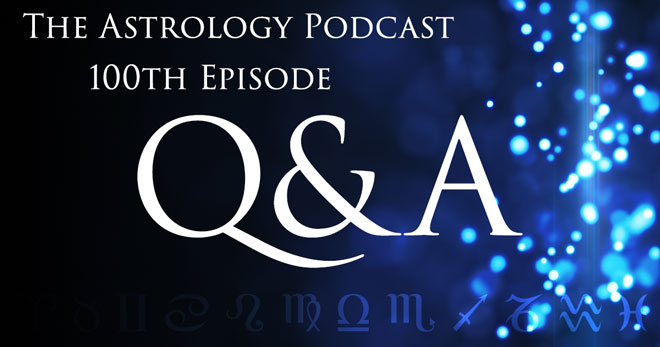 The podcast has reached a major milestone, and this is the 100th episode of the show!
To celebrate the 100th episode we had a question and answer session with astrologers Chris Brennan, Patrick Watson, Leisa Schaim, and Nick Dagan Best.
The day before we recorded the episode we put out a call for questions from listeners and patrons of the show, and we ended up with a lot of questions! There were so many questions in fact that we only got through maybe half of them or less in this episode, so we will probably do a followup Q&A episode in April in order to answer the rest.
We ran into some technical issues in recording this episode, and were not sure if it was going to be salvageable, but our sound engineer was able to save the day and piece together a full episode from what we gave him. The initial part of the discussion is just between Chris, Patrick, and Leisa, and then about 54 minutes in Nick joined the show.
Giveaway Prizes for March
At the top of the show we briefly talk about the two giveaway prizes for March:
A free pass to the upcoming Organization for Professional Astrology retreat, which will take place October 19-22, 2017 at the beautiful Zion National Park, in Utah.
A signed copy of my new book, Hellenistic Astrology: The Study of Fate and Fortune.
For more information about the giveaway and how to enter see the March description page.
Episode Outline, Topics Covered, and Questions Answered
We open the show talking about how it is the 100th episode.
Discuss the giveaway prizes for patrons this month, and then the main Q&A discussion gets started at 6:30.
Nick joins the show at 54:45.
What is the podcast's theme song?
Are electional charts the reverse/mirror image of a horary chart?
Which timing techniques do you favor / prioritize?
The Tyranny of the Rising Signs: where do you draw the line in applying electional astrology, or astrology in general to your life?
Do you use declinations in your practice?
What is something about your natal chart that you resonate with personally? (Some of the answers to this question were lost due to audio issues)
How has practicing astrology influenced who you are as a person and your worldview?
How would you interpret / reconcile those cases when the MC is in a different sign than the 10th whole sign house?

How smoothly did your conceptual transition to using whole sign houses go?

How do you approach interpreting the conjunction between a malefic and a benefic?
What is the interpretive distinction between inferior and superior conjunctions in terms of synodic cycles?
Transcript
A full transcript of this episode is available: Episode 100 transcript
Listen to This Episode
You can either play this episode of the podcast directly from the website or download it as an MP3 to your computer by using the buttons below:
Podcast: Play in new window | Download (Duration: 1:50:02 — 50.7MB)
Subscribe: Google Podcasts | Stitcher | RSS | More