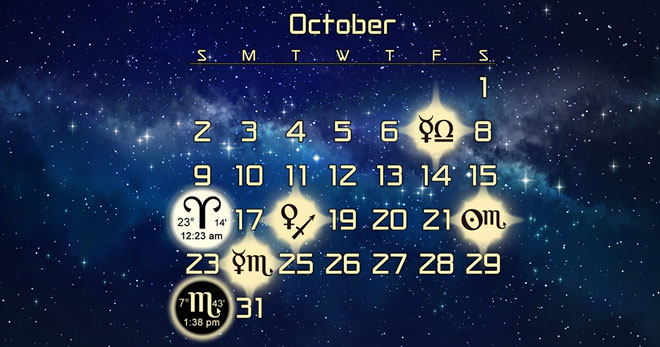 In episode 89 Kelly Surtees and Austin Coppock join the show to talk about the astrological forecast for October of 2016, which includes Mars in a new sign for the first time all year, a Full Moon conjunct Uranus, and some other relatively light ingresses after a pretty busy September.
I also highlighted some auspicious dates for beginning different types of ventures and undertakings, using the principles of electional astrology.
As always, the cover art for this episode is from the 2016 PlanetWatcher Astrology Calendar.
Below you will find the show notes, followed by links to download or stream the recording of our discussion.
Astrological Alignments for October
Mars in Capricorn all month (in dignity and first new sign all year!)
Mercury ingresses into Libra October 7
Full Moon in Aries October 16
Venus ingresses into Sagittarius October 18
Sun ingresses into Scorpio October 22
Mercury moves into Scorpio October 24
New Moon in Scorpio October 30
Auspicious Electional Dates
October 18 around 3:05 p.m., with 11° Aquarius rising
October 20 around 10:15 p.m., with 9° Cancer rising
October 22 around 2:45 p.m., with 10° Aquarius rising
October 27 around 2:25 p.m., with 10° Aquarius rising
Listen to This Episode
You can either play this episode of the podcast directly from the website or download it as an MP3 to your computer by using the buttons below:
Podcast: Play in new window | Download (Duration: 1:02:34 — 50.5MB)
Subscribe: Google Podcasts | RSS | More