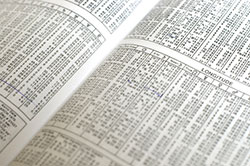 In this episode astrologer Austin Coppock joins me to to talk about some of the upcoming astrological trends and themes that will occur in 2015.
Austin is the author of the 2015 Astrological Almanac, and so he had a number of great insights to share about what the major planetary alignments are this year, as well as what people should expect from them.
Below you will find the show notes, followed by links to download or stream the episode:
Topics Covered in the Episode
Lots of fire sign placements this year.

Saturn in Sag, Jupiter in Leo, Uranus in Aries, Venus retro in Leo with Mars and others around the same time in the summer.
In Feb/March Venus and Mars in Aries.

Saturn in Sagittarius (pending squares to Neptune in Pisces)

Murder of cartoonist in France today and the resulting discussions about religion.

Criticism of belief, religion, zealotry.

Similar thing happened with Saturn in Scorpio and early news stories ended up being prescient. Privacy, secrecy, spying, hacking, etc.
Saturn switches houses now for everyone, with whole sign houses.

Saturn moves back into Scorpio June 15 – September 18.

The Saturn return for Saturn in Scorpio people isn't quite over yet.

Venus retrograde in Leo

Stations retro at 0 Virgo.
July 25 – August 2.
Last one was summer of 2007.
Summer of 1999 prior to that.

Early August has a lot going on

Venus retros back into Leo right about the time Mars ingresses in, Jupiter leaves, and Saturn stations direct in Scorpio.

The final Uranus-Pluto square in March (end of an era)

2015 is the middle of the decade.
Began the decade with this alignment.

The mutable mess we're transitioning into (Saturn, Jupiter, Neptune and both nodes mutable. Mars RX in mutable Sag in Spring of 2016)
Jupiter-Saturn Square- ¾ of the way through the 20 year cycle.

Getting ready for the next conjunction in Aquarius in 2020. New triplicity.

Eclipses this year:

March solar at 29 Pisces and April lunar at 14 Libra.
September solar at 20 Virgo and then lunar at 4 Aries.
Transcript
A full transcript of this episode is available: Episode 22 transcript
Download or Stream the Podcast
You can either download this episode of the podcast as an MP3 or you can play it directly from the website by using the buttons below:
Podcast: Play in new window | Download (Duration: 1:10:25 — 32.4MB)
Subscribe: Google Podcasts | Stitcher | RSS | More