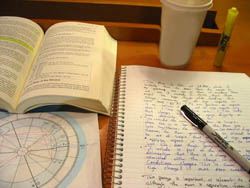 In this episode I talk with Patrick Watson about whether it is ethical to use electional astrology in order to choose a birth chart for a baby that is about to be born, as well as some of the issues connected with that topic.
Patrick and his wife had a baby just last month, and as an astrologer he had to think about some of these questions, so I thought it would be good to take the opportunity to discuss it on the show.
Outline of the Podcast
Here is a general outline of the episode and some of the main points that we talked about:
Patrick had a baby last month, and we wrestled with the issue of electing a birth, and some of the things that arise as a result of it.

James Patrick Watson, born January 24, 2014 at 1:04 PM in Phoenix, Arizona. 29 Taurus rising.

Is it ethical to elect a birth chart?

Would it be ethical to not elect the birth chart if you had the option?

Is this similar to eugenics or gene selection, like the movie Gattaca?

Could it lead to negative things, like discrimination?

They needed to pick a date because a C-section was necessary due to complications.
In the end we picked the date, but didn't have control over the time, so it was like 50/50.

50% left up to chance, and 50% choice.
The birth time ended up being later in the day than even anticipated.

Patrick noticed a number of connections between the Ascendant and important moments in the parent's relationship.

No known planetary placements or Lots at 29 Taurus/Scorpio in the natal chart of parents. Were these transits in anticipation of James' Ascendant or did the transits "cause" James' Ascendant to be 29 Taurus?

Wendy Stacey from the UK has done a study on the increased use of C-sections in modern times, showing that it is becoming more and more common.

It is safer.
Doctors prefer it and recommend it because then it conforms to their schedule.
The result though is that more people are born during the day.

Is the birth chart still valid if it was a C-section instead of a normal birth?

We put this question to rest right away and say yes.
It seems like people who say no have a fundamental misunderstanding of astrology.
However, Gauquelin did say that the Mars effect vanished for induced births.
Transcript
A full transcript of this episode is available: Episode 15 transcript
Download or Stream the Podcast
You can either download this episode of the podcast as an MP3 or you can play it directly from the website by using the buttons below:
Podcast: Play in new window | Download (Duration: 1:12:58 — 33.6MB)
Subscribe: Google Podcasts | Stitcher | RSS | More