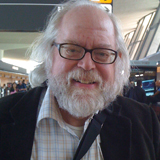 In this episode of the podcast I interview world-renowned astrologer Robert Hand, and we talk about the issue of rebuilding the links between modern and traditional astrology.
Rob is known for books such as Planets in Transit, Planets in Composite, and Horoscope Symbols, although he is also known for his work in recovering and reviving older forms of astrology.
He is getting ready to present a two day online webinar on Whole Sign Houses later this week on December 14 & 15, 2013, and you can find out more information about it on his website at ARHATmedia.com.
Topics Covered
Here are some of topics that we talk about during the course of the show:
Some of Rob's background in modern and ancient astrology.
Some ways in which different ancient philosophies could be compatible with or complimentary to modern astrology.
Different conceptualizations of fate.
Can modern astrology be reconciled with traditional astrology?

Philosophically?
Technically?

The relationship between one's level of self understanding and the way that you experience fate.
Issues related to whole sign houses and using it in modern astrology.
The relationship between astrology and science.
Where astrology is headed in the future.
Transcript
A full transcript of this episode is available: Episode 12 transcript
Download or Stream the Podcast
You can either download this episode as an MP3 or play it directly from the website by using the buttons below:
Podcast: Play in new window | Download (Duration: 1:24:11 — 38.7MB)
Subscribe: Google Podcasts | RSS | More