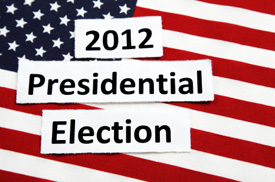 In the fourth episode of the podcast Patrick Watson of The Political Astrology Blog joins me to discuss the astrology of the 2012 presidential election in the United States.
During the course of the show Patrick and I discuss topics such as the different astrological approaches to predicting the outcome of the election, the approach that we took in issuing our own prediction on The Political Astrology Blog, Obama and Romney's birth charts, the inception charts for the Republican and Democratic National Conventions, the Mercury retrograde on Election Day, and the inauguration chart on January 20, 2013.
The show is longer than usual, clocking in at a solid 1 hour and 52 minutes, but that is because we covered a lot of ground, as we've both been following the astrology of this election very closely.
Below you will find the show notes, and then at the bottom of this post you can find links to download or play this episode of the podcast.
Show Notes and Outline
Intro and background information on our recent work with political astrology.
Predicting Presidential Elections

Different methods that have been used to forecast the election:

The natal charts of the candidates.
The announcement times of the campaigns.
The nomination charts at the conventions (which we will talk about more later).
The birth chart for the US.
Mundane charts, like the Aries ingress (Nina Gryphon)
Horary charts (which is a bad idea).
Also different traditions: Indian, Hellenistic, Uranian, Medieval, Modern, etc.

Our Approach to Predicting the Outcome of the Election

Natal astrology primarily, and then later nomination charts which confirmed our original findings.
Primarily used a Hellenistic timing techniques that times peak periods in a person's career.
Also took into account profections and transits.

Saturn in Scorpio being more problematic for Obama, but not costing him the election.
Eclipses.

The Republican and Democratic National Conventions

The nomination and acceptance charts.  The big thing is the different ruler of the ascendant.  Venus applying to Saturn versus Venus separating from Saturn and applying to Jupiter.
Void of course Moon in Obama's nomination and acceptance speech.
The elections for the conventions themselves were pretty good.

The DNC chart had a better ruler of the ascendant.  Obama got a bounce and Romney didn't.

Mercury Retrograde on Election Day

Retrograde stations:

Stations retrograde at 4 Sagittarius in the evening on Election Day, Nov 6, 2012.
Stations direct on November 26 at 18 Scorpio.

Hard aspects with Neptune

The Inauguration Chart 

Moon applies to square Mars.  (!)  Ominous.
Patrick points out that Mars rules the 7th and 12th.
Last inauguration that looked like this was 2001.
Jupiter in the 2nd, stations direct 10 days later. Mercury ruler of 2nd applying to Jupiter.  Looks good for the economy.
Transcript
A full transcript of this episode is available: Episode 4 transcript
Download or Stream the Podcast
You can either download this episode as an MP3 or play it directly from the website by using the buttons below:
Podcast: Play in new window | Download (Duration: 1:52:58 — 51.7MB)
Subscribe: Google Podcasts | Stitcher | RSS | More