$20 Package + $5 shipping
~
Instantly Know The Major Transits This Year At A Glance
The Astrology Podcast has released a new set of posters that illustrate the astrology of 2018!
The first is the new Planetary Movements 2018 Astrology Poster, and the second is the PlanetWatcher 2018 Astrology Calendar.
With these posters you can easily look up where the planets will be each day of the year at a glance, when they will move into different signs of the zodiac, and more. Give yourself a beautiful visual reference for the day's astrology–without having to open an app!
These two posters are being released together this year in a combo pack, together with two smaller reference cards that show Mercury retrograde periods in 2018 and a planetary rulership table. Reinforce your astrological studies with a tangible calendar set you can reference all year round!
You can find out more about each poster below, and use the PayPal "buy now" button on this page to order yours today!
Planetary Movements 2018 Poster
The Planetary Movements poster is a round calendar that gives a visual representation of the movements of the planets through the zodiac over the course of the year, including their stationary and retrograde periods.
This poster is useful for developing a visual understanding of the movement of the planets over the course of the year, and for seeing which parts of your birth chart they will be transiting through over the next 12 months.
The poster is a single sheet, measuring 16 inches wide by 20 inches high.
In addition to listing dates for stations and retrogrades, this is a beautiful decorative piece printed on matte quality paper, which can be hung on your wall to give it some flair.
The Planetary Movements poster was developed by Paula Belluomini and Chris Brennan, and a Portuguese version of the calendar can be ordered through Paula's website.
PlanetWatcher 2018 Calendar
The PlanetWatcher Calendar is a poster that presents dates for all of the most important astrological alignments of the year in a traditional 12-month calendar format.
The calendar indicates the dates when planets will move into different signs of the zodiac, when new and full moons take place, retrograde stations, and exact outer planet aspects.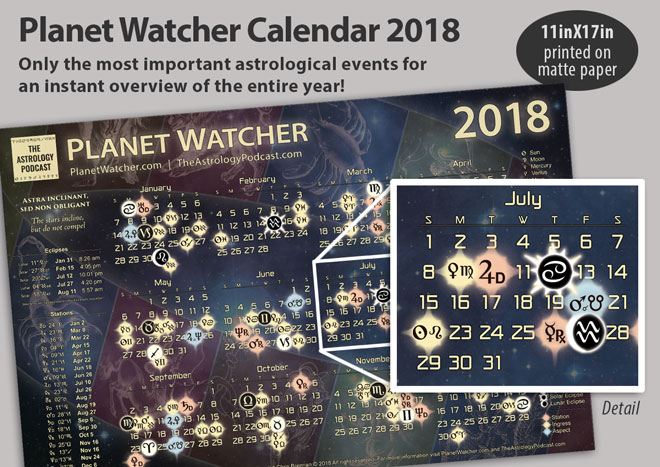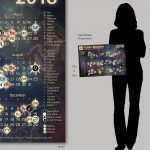 With this calendar you can easily see where the planets are at a glance, and enhance your astrology skills by knowing exactly when all of the most important astrological events will happen this year.
The PlanetWatcher Calendar was originally developed in 2008 by Kirk Kahn of PlanetWatcher.com, and quickly became popular due to its quick and easy visual format. It has been used as the source of images for the monthly forecast episodes of The Astrology Podcast since 2015.
See the key to the right for an explanation of the symbols.
This year Kirk and Chris Brennan have partnered up in order to release the PlanetWatcher and Planetary Movements calendars together, as a complementary combination pack.
Bonus Reference Cards
As a bonus, two additional astrology reference cards are included in all orders!
The first is a 7×5 card that lists all of the Mercury retrograde and shadow periods in 2018. The second is a 7×5 card that provides a table of planetary rulerships and essential dignities.
Price for Poster Package
The price for this four-piece package is $20, plus $5 for shipping and handling ($25 total).
This combo pack includes:
Planetary Movements 2018 (16×20 poster)
PlanetWatcher 2018 (11×17 poster)
Mercury Retrograde 2018 (7×5 card)
Planetary Rulerships Table (7×5 card)
Shipping
Orders are shipped via USPS First-Class Mail, which takes approximately 2-5 business days to arrive, depending on where you live in the United States.
For international shipping outside of the United States please our international orders page.
Ordering
To order the poster bundle please use the "buy now" button below.
You will be taken to PayPal in order to make your payment, and you will be asked for your shipping details, which will then be forwarded to Chris to pack and ship your order.
Wholesale and bulk discounts are available for orders of 10 or more. Please email Chris for more information: astrologue@gmail.com