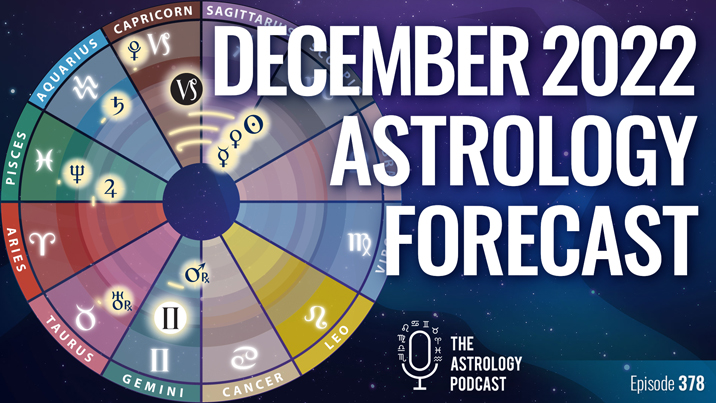 In episode 378 we look ahead at the astrological forecast for December 2022, with astrologers Chris Brennan, Austin Coppock, and Aerin Fogel.
The astrology of December features the second half of the Mars retrograde in Gemini commencing, Jupiter departing from Pisces and moving into Aries, and Mercury stationing retrograde conjunct Venus and Pluto in Capricorn.
At the top of the show we talk about the astrology of some recent events in the news, such as the chaos surrounding Twitter that coincided with the recent eclipse and Mars retrograde station, as well as the sudden collapse of the bitcoin exchange FTX that fell right on the Taurus eclipse.
This episode is available in both audio and video versions below.
Our Websites
Consultations, Posters, 2023 Electional Astrology Report
theastrologypodcast.com/consultations/
theastrologypodcast.com/merch/
theastrologypodcast.com/2023report/
Auspicious Date for December
The most auspicious electional chart for this month is:
  December 10, 2022 at 12:35 PM, with late Pisces rising
For other lucky dates in December see our electional astrology podcast:
theastrologypodcast.com/auspicious-elections-podcast/
Patreon
Support the podcast and get access to subscriber benefits through our page on Patreon:
Watch the Video Version of This Episode
Watch the video version of our December astrology forecast:
–
Transcript
A full transcript of this episode is available: Episode 378 transcript
Listen to the Audio Version of This Episode
Listen to the audio version of this episode or download it as an MP3:
Podcast: Play in new window | Download (Duration: 2:17:38 — 129.2MB)
Subscribe: Google Podcasts | RSS | More