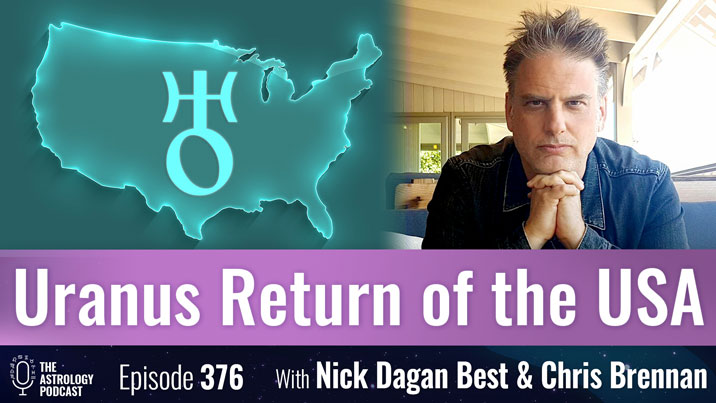 In episode 376 astrologer Nick Dagan Best joins the show to talk about the Uranus returns of the United states, discussing how the transit of Uranus in Gemini has worked out for the country in three distinct periods in American history, and what it may mean for the future.
The planet Uranus spends about 7 years in each sign of the zodiac, and it takes about 84 years to make a complete cycle and return to where it started.
Astrologers have long noted that Uranus was transiting through Gemini during three distinct periods in American history: the Revolutionary War, the Civil War, and World War II.
This correlation between important conflicts in the past is important today because Uranus is again getting ready to return to Gemini starting in 2025, and then transiting through that sign all the way through 2032.
In this episode I sat down with Nick for a detailed conversation about those three previous periods in American history, in order to see just how close the previous correlations with Uranus transits have been, and also so that we could try to gain some insights about what may be coming up in the future.
Nick wrote a book about this topic in 2013 titled Uranus USA, which was recently re-released as a PDF ebook:
https://theastrologypodcast.com/uranususa/
For more about Nick visit his website:
This episode is available in both audio and video versions below.
Timestamps
00:00:00 Intro
00:02:10 Overview of the history of Uranus transits of the USA
00:06:31 American Revolutionary War 1775-1783
00:08:40 Tensions in the years prior to the war
00:32:46 Declaration of Independence 1776
00:38:47 Patrick Henry
00:41:10 US Sibley chart
00:43:41 Remaining years of the Revolutionary War
00:45:40 Discovery of Uranus in 1781
00:48:30 Articles of Confederation
00:56:28 George Washington
01:01:00 The state of the country prior to the Civil War
01:03:51 Harriet Beecher Stowe
01:09:51 John Brown
01:12:34 Frederick Douglass
01:14:41 Lincoln-Douglas debates
01:18:34 Abraham Lincoln
01:27:18 Recurrence transits
01:29:14 Mars-Uranus and style of war
01:39:30 Civil War 1863
01:43:01 Gettysburg Address
01:52:08 Civil War 1864-65 and Lincoln's re-election
01:56:01 End of the Civil War and Lincoln's assassination
02:01:18 Jefferson Davis
02:03:42 Nick's Uranus USA book
02:07:15 Aftermath of Civil War
02:12:06 Lead up to WWII
02:41:40 USA and Britain in WWII parallel to American Revolution
02:43:00 Winston Churchill
02:45:50 Japanese story
02:54:40 WWII 1942 USA involvement
02:59:10 Franklin Roosevelt
03:06:20 End of WWII and aftermath
03:12:12 USA Uranus return #1 vs. #2
03:18:10 Second half of 1940's
03:23:56 Uranus in other countries
03:27:17 Uranus in Gemini USA presidents
03:28:25 Themes leading up to next USA Uranus return starting in 2025
03:49:00 Uranus cycles – squares and opposition
03:51:40 Mars-Uranus conjunction in the Sibley chart
04:01:30 Proxy wars
04:06:40 Tensions in USA
04:10:00 Importance of mundane astrology
04:12:18 Nick's Uranus USA book on PDF
04:13:14 Nick's website and YouTube
04:14:43 Patrons and sponsors
Watch the Video Version of This Episode
Watch the video version of this episode on the Uranus returns of the USA:
–
Transcript
A full transcript of this episode is available: Episode 376 transcript
Listen to the Audio Version of This Episode
Listen to the audio version of this episode or download it as an MP3:
Podcast: Play in new window | Download (Duration: 4:18:56 — 237.4MB)
Subscribe: Google Podcasts | Stitcher | RSS | More