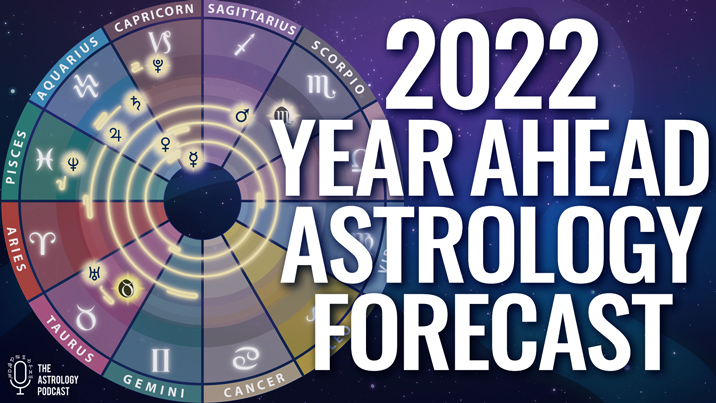 In episode 332 we present our annual year ahead astrology forecast for 2022, where we look at the major astrological alignments coming up over the next 12 months and make some predictions, with astrologers Chris Brennan, Austin Coppock, and Leisa Schaim.
We spend the first 40 minutes of this episode giving an overview of some of the major transits in 2022, including the ongoing Saturn-Uranus square, Jupiter's transit through Pisces and Aries, the Jupiter-Neptune conjunction, Venus retrograde in Capricorn, Mars retrograde in Gemini, the Pluto return of the United States, and eclipses in Taurus and Scorpio.
After that initial overview we then go into a more detailed breakdown of the next twelve months, breaking it up into four quarters, and spending about 40 minutes on each quarter of the year.
This episode is available in both audio and video versions below.
More About Chris, Austin, and Leisa
Find out more about our work and offerings here:
Honeycomb Collective Personal Almanacs and Calendars
Our sponsor is the Honeycomb Collective astrological almanacs and calendars:
These personalized almanacs are available in print or digital format, and include your natal transits, Hellenistic methods, solar returns, lunations, and much more!
Astrology Conferences in 2022
There are two major in-person astrology conferences happening in 2022!
The Northwest Astrological Conference, near Seattle, May 26-30, 2022:
The International Society for Astrological Research conference, happening near Denver, August 25-29, 2022:
2022 Astrology Podcast Calendars Available
We recently released our annual astrology calendar posters for 2022!
TheAstrologyPodcast.com/merch/
We also have some new mugs, t-shirts, and other swag on our new merch page.
Auspicious Election for January
The most auspicious astrological date for January is:
January 27, 2022, 8:25 AM local time, with early Pisces rising
For more dates in January see our subscription electional astrology podcast.
For dates later in the year see our 2022 Year Ahead Electional Astrology Report!
Timestamps
Here are some timestamps for topics covered at different points in the episode:
00:00:00 Intro
00:01:00 2022 astrology graphics
00:01:30 Overview of major astrological alignments in 2022
00:02:36 Saturn square Uranus
00:15:15 Money, cryptocurrency, and foreign digital currencies
00:17:35 Vegan alternatives and lab-grown meat
00:20:00 Jupiter in Pisces
00:20:40 Jupiter Neptune conjunction
00:26:30 The last time Jupiter was conjunct Neptune in Pisces
00:28:05 Avatar movie
00:31:59 Dreams and aspirations
00:33:40 More on Jupiter-Neptune
00:41:10 Mars-Saturn conjunction
00:47:20 Phrases for 2022
00:48:41 First quarter of 2022
00:49:40 Venus retrograde in Capricorn conjunct Pluto
01:00:29 Mercury retrograde
01:06:03 Mars in Capricorn
01:07:00 Venus conjunct Mars
01:14:09 Mercury-Pluto conjunction
01:15:55 Pluto return of the USA
01:32:47 Electional chart for January
01:37:20 February and March
01:38:23 Venus enclosed by Mars and Saturn in March
01:44:12 Honeycomb Almanac for 2022
01:47:43 Second quarter of 2022
01:49:07 April
01:50:27 Venus in Pisces
01:55:09 Solar Eclipse in Taurus
01:55:28 Venus-Jupiter conjunction in Pisces
01:55:44 Jupiter in Aries
01:58:24 Mars-Jupiter conjunction in Aries
02:03:22 May
02:03:45 Lunar eclipse in Scorpio
02:11:18 June
02:11:40 Mercury station in Taurus square Saturn
02:14:30 Saturn station in Aquarius
02:15:15 Venus in Taurus square Saturn
02:15:53 Mercury enters Gemini
02:16:59 NORWAC 2022
02:22:02 ISAR 2022
02:25:49 Third quarter of 2022
02:27:10 Mars in Taurus
02:31:14 Mars conjunct Uranus and North Node
02:34:55 The Sun under stress
02:35:41 Second exact Pluto return
02:35:55 Saturn-Uranus square
02:37:45 Saturn return of the internet
02:39:35 Keywords for Mars conjunct Uranus and North Node
02:42:38 Mars square Saturn
02:46:21 Jupiter stations retrograde
02:48:19 Uranus stations retrograde
02:51:00 Mars in Gemini
03:07:47 Mercury retrograde
03:10:07 2022 Astrology calendar posters
03:11:44 Fourth quarter of 2022
03:12:54 October
03:15:36 Jupiter back into Pisces
03:19:00 Lunar Eclipse in Taurus with Uranus and North Node
03:25:54 More on the Pluto return in the USA
03:30:47 The space race
03:32:15 Jupiter Neptune
03:35:11 Jupiter enters Aries
03:36:18 Final Pluto return
03:40:48 Preview of 2023
03:49:28 Austin's upcoming work and book
03:51:43 Leisa's upcoming work
03:53:18 Chris' upcoming work
03:55:52 Concluding remarks and sponsors
Watch the Video Version of Our Yearly Astrology Forecast
You can watch the video version of our 2022 yearly astrology forecast here:
–
Transcript
A full transcript of this episode is available: Episode 332 transcript
Listen to the Audio Version of This Episode
You can play the audio version of this episode of the podcast directly from the website or download it as an MP3 to your device by using the buttons below:
Podcast: Play in new window | Download (Duration: 3:59:08 — 219.2MB)
Subscribe: Google Podcasts | RSS | More