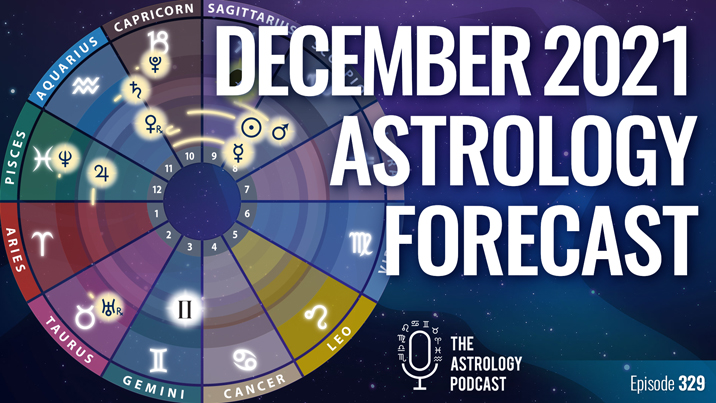 In episode 329 astrologers Chris Brennan, Austin Coppock, and special guest co-host Becca Tarnas look ahead at the astrology of December 2021.
The astrology of December features Venus stationing retrograde in Capricorn conjunct Pluto, a solar eclipse in Sagittarius, and the third and final exact Saturn-Uranus square.
Jupiter also departs from Aquarius and moves into Pisces late in the month, while Neptune stations direct, there is a Full Moon in Gemini, and Mars ingresses into Sagittarius.
At the beginning of the episode we review some stories that happened in the news that correlated with the astrology of November, and then dive into the astrology of December.
This episode is available in both audio and video versions below.
Archetypal Explorer
Our sponsor this month is Archetypal Explorer, which is an online astrology program that features a suite of visual and interactive astrological tools:
Sign up today for a free 7-day trial of the program!
Becca, Austin, and Chris' Current Offerings
Chris' online astrology courses
2022 Astrology Calendar Posters + Merch
Planetary Alignments for December
Neptune stations direct in Pisces December 1
Solar Eclipse in Sagittarius on December 4
Mars into Sagittarius on December 13
Mercury into Capricorn on December 13
Full Moon in Gemini on December 18
Venus stations retrograde December 19
Sun into Capricorn December 21
Saturn square Uranus on December 24
Jupiter into Pisces on December 28
Auspicious Election for December
The most auspicious astrological date for December is:
December 13, 2021 at 11:05 AM local time with late Aquarius rising
There are several other charts for December that are available in our subscription electional astrology podcast.
We also recently released our 2022 Year Ahead Electional Astrology Report!
Timestamps
Here are some timestamps for topics covered at different points in the episode:
00:00:00 Intro
00:00:38 December overview
00:01:40 Welcome to Becca Tarnas
00:02:40 November review
00:04:00 Storms in Egypt and Scorpions
00:09:52 Covid variants
00:15:47 Using Mars Saturn to get work done
00:20:30 Accidents and Mars Uranus
00:22:38 First Eclipse in Taurus
00:25:00 Biden's health procedure
00:27:16 Kamala Harris' natal chart
00:29:00 Intercepting asteroids
00:32:47 Astrology Podcast hits 100K YouTube subscribers!
00:34:34 Major things in December
00:37:55 Archetypal Explorer graph of Saturn square Uranus
00:42:30 Venus retrograde and Venus Pluto
01:01:55 Final eclipse in Sagittarius
01:04:32 Jupiter enters Pisces
01:10:16 Archetypal Explorer sponsor
01:17:04 Week 1: Neptune stations direct in Pisces
01:33:15 Week 2: Mars Pluto and Mars Jupiter
01:36:24 Week 3: Mars enters Sagittarius
01:38:04 Mars South Node
01:40:08 US Sibley chart
01:42:50 Biden's chart
01:43:40 US Pluto return and Saturn Uranus Square
01:48:47 Full Moon in Gemini
01:49:56 Becca's cat
01:51:19 Austin's cat
01:51:45 Full Moon in Gemini trine Jupiter
01:52:20 Venus station
01:52:47 Electional chart
01:55:25 Year ahead forecast
01:56:21 2022 Auspicious Elections report
01:57:37 Week 4: Venus Retrograde, Saturn Square Uranus, Venus Pluto
01:58:55 Ongoing fixed crisis
02:02:00 Infrastructure bill
02:02:48 Saturn Uranus in Gemini in 2032
02:05:30 Metaverse and virtual reality
02:11:20 NFT's
02:11:50 Jupiter enters Pisces
02:14:00 Jupiter Neptune conjunction
02:17:13 Mercury Venus and Mercury Pluto
02:19:50 Becca's work and website
02:21:42 Austin's work and new Sphere and Sundry series
02:23:41 Chris' horary course and Hellenistic course price increase
02:25:11 2022 astrology calendar posters
02:26:23 Closing remarks
Watch the Video Version of Our Astrology Forecast
Watch the video version of our December astrology forecast here:
–
Listen to the Audio Version of This Episode
You can either play the audio version of this episode of the podcast directly from the website or download it as an MP3 to your device by using the buttons below:
Podcast: Play in new window | Download (Duration: 2:30:20 — 138.0MB)
Subscribe: Google Podcasts | RSS | More