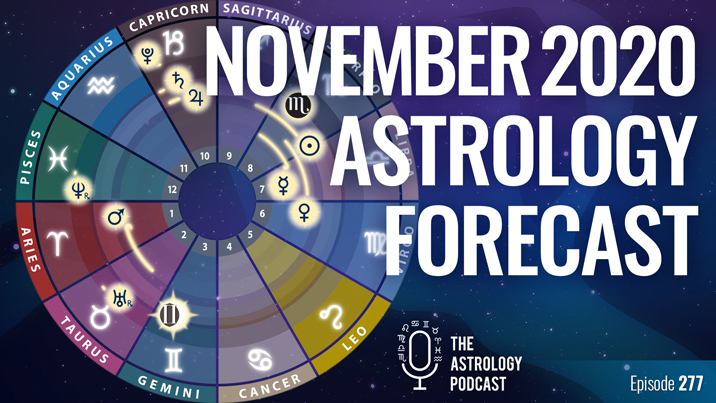 In episode 277 astrologers Kelly Surtees, Austin Coppock, and Chris Brennan look at the astrological forecast for November of 2020.
The astrology of November features Mercury stationing direct on November 3, which happens to be election day in the US, plus Mars stationing direct in Aries mid-month, the final Jupiter-Pluto conjunction in Capricorn, and a lunar eclipse in Gemini.
We spend a bit of time reviewing some of the things that have been happening in the news over the past with the Mercury retrograde in Scorpio, and also touch on some of the astrology of the 2020 US presidential election.
Finally we also discuss the resurgence of the pandemic in the US and Europe recently, and how the third wave in the US is currently on track to match with the third Jupiter-Pluto conjunction.
Below you will find the show notes, followed by links to the recordings.
This episode is available in both audio and video versions below.
Archetypal Explorer
Our sponsor this month is Archetypal Explorer, which is an online astrology program for natal and mundane astrology.
The site features a suite of visual and interactive tools for studying astrological transits, and includes interpretations from Richard Tarnas' book Cosmos and Psyche
Find out more information or sign up for a free trial at:
Many of the transit graphs used in the video version of this episode of the podcast were provided by Archetypal Explorer.
November Astrological Alignments
Full Moon in Taurus conjunct Uranus on October 31
Mercury stations direct in Libra on November 3
Mercury moves into Scorpio on November 10
Jupiter conjunct Pluto on November 12
Mars stations direct on November 13
New Moon in Scorpio on November 14
Sun into Sagittarius on November 21
Venus into Scorpio on November 21
Neptune stations direct in Pisces on November 28
Lunar eclipse in Gemini on November 30
Auspicious Astrological Date for November
The most auspicious astrological date we could find in November is:
November 28, 2020, at approximately 12:35 PM, with Pisces rising
There are a few other charts for November that we presented in our private subscriber-only electional astrology podcast.
Timestamps
Here are some timestamps for topics covered at different points in the episode:
00:00:00 Introduction
00:00:54 Animated November transits
00:02:04 November astrology calendar
00:03:05 Cardinal sign emphasis
00:05:53 Full Moon in Taurus conjunct Uranus October 31
00:08:57 November as continuation and culmination
00:11:43 Third Jupiter-Pluto conjunction
00:17:00 Mercury retrograde in Scorpio recap
00:28:25 Trump's transits and health in early September
00:40:54 Mercury stationing direct in Libra on November 3
00:51:30 When will the outcome of the election be decided?
01:13:10 Jupiter-Pluto conjunction on November 12
01:22:35 Mars stationing direct in Aries November 13
01:38:20 New Moon in Scorpio November 15
01:48:52 Venus into Scorpio and Sun into Sag Nov 21
01:55:05 Lunar eclipse in Gemini on November 30
02:03:18 Auspicious electional chart for November 28
02:09:48 Archetypal Explorer
02:13:01 Mars retro in Aries MMA story
02:14:13 Kitten watch 2020
02:17:15 Zodiac The Vote
02:22:20 Kelly's November events
02:23:15 Austin's November events
02:24:58 Podcast producers
02:27:15 Ending
Watch the Video Version of Our November Astrology Forecast
Here is the video version of our November astrology forecast episode:
–
Listen to the Audio Version of Our Forecast
You can either play the audio version of this episode of the podcast directly from the website or download it as an MP3 to your device by using the buttons below:
Podcast: Play in new window | Download (Duration: 2:29:28 — 136.9MB)
Subscribe: Google Podcasts | Stitcher | RSS | More