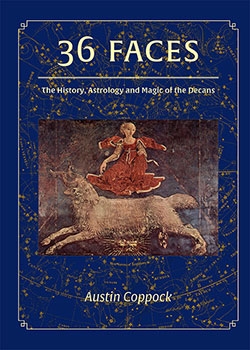 In this episode I interview astrologer Austin Coppock about his groundbreaking new book, titled 36 Faces: The History, Astrology and Magic of the Decans.
The book covers the history, philosophy, and interpretation of each of the 36 decans.
The majority of the text focuses on providing delineations for each of the decans based on symbolic interpretations of different illustrations and planetary associations from the past 2000 years.
You can order a signed copy of 36 Faces through Austin's website, or you order the book through his publisher's website, which is Three Hands Press.
Below you will find a general outline of some of the topics we covered in the show, as well as links to download or stream the episode.
News and Announcements
I recently added a new lecture on the conditions of bonification and maltreatment to my online course on Hellenistic astrology, and finished expanding it into a 10-part course.
I will be raising the price for the course to $297 on September 1, but if you sign up before then you can get the full course with all of the new material for the current price of $175.
Outline of Topics Covered in the Episode
The structure of the book:

History of the decans.
An overview of each decan.
Delineations for each of the 7 traditional planets when placed in each decan.

Discussion of Austin's process for coming up with the delineations.

The book represents a synthesis of a bunch of earlier traditions, with some modern insights as well.

The history of the decans.

Astrology's debt to Egypt, and the link with the decans.
Started with the fixed stars, but we don't know which fixed stars the original decans were associated with at this point.

Different types of decans:

Original ones connected with fixed stars.
Chaldean order set from the Hellenistic tradition.
Indian elemental triplicity variant, which became popular in modern astrology due to Alan Leo. Sometimes known as "decanates."

Astrology and magic.

The entwined history thereof

Discussion about publishing in the astrological community today.

The state of astrological publishing.
This book used a very specific model.
Would have been a different book if it was self-published or done through a major publisher.
Transcript
A full transcript of this episode is available: Episode 20 transcript
Listen to this Podcast
You can either download this episode of the podcast as an MP3 or you can play it directly from the website by using the buttons below:
Podcast: Play in new window | Download (Duration: 1:13:36 — 33.9MB)
Subscribe: Google Podcasts | RSS | More