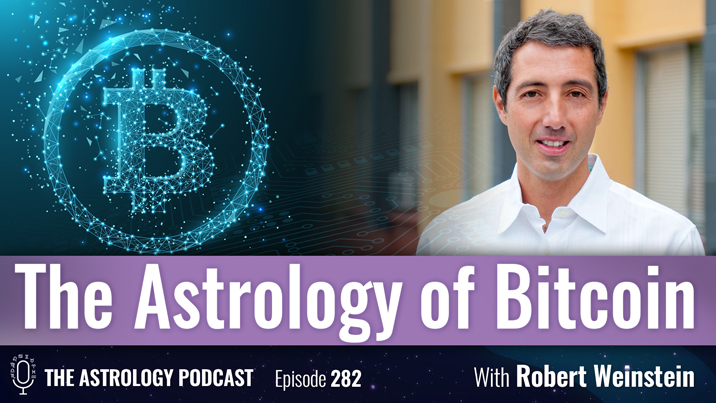 Episode 282 features an interview with astrologer Robert Weinstein about his work using astrology to study fluctuations in the value of the cryptocurrency called Bitcoin.
Robert wrote an article in The Mountain Astrologer magazine last year on the astrology of Bitcoin, and originally approached me last summer about doing an episode on the topic, although I wasn't quite ready at that point.
My interest in the topic was renewed recently though when the value of Bitcoin hit a new all time high on November 30, which happened to coincide with a lunar eclipse in Gemini that we talked about in our astrology forecast last month.
So we decided to sit down yesterday and record a sweeping three-hour discussion on the connections between astrology and Bitcoin, and some of the studies Robert has done on it.
We spend a large part of the first hour just talking about what Bitcoin is and how it originated, in order to introduce it to a beginner audience, and then in the second and third hours we get more into the birth chart of Bitcoin, and review some past instances where price fluctuations have coincided with transits to the Bitcoin chart.
Eventually we also talk a little bit about the future, and some of the changes expected in currencies with Uranus moving through Taurus, as well as some of the long term transits for the chart of Bitcoin in general.
For more information about Robert check out his website:
You can also follow him on Twitter: @AstroCryptoGuru
This episode is available in both audio and video versions below.
Timestamps
Here are some timestamps for different topics we talked about:
00:00:00 Introduction
00:02:23 Robert's background
00:04:00 Financial astrology
00:10:08 Bitcoin price fluctuations and astrology
00:14:30 Lunar eclipse + new Bitcoin record
00:16:17 What is Bitcoin?
00:23:15 The birth of Bitcoin
00:32:28 Mining Bitcoins
00:36:45 Early trading and accumulation of value
00:46:42 Birth chart of Bitcoin
01:04:20 Volatility due to Saturn-Uranus opposition
01:09:10 First Bitcoin transaction chart
01:10:57 More observations on Bitcoin birth chart
01:15:54 Studying fluctuations in price
01:22:32 Uranus in Taurus: currency changes
01:30:40 Mt. Gox Hack: Pluto conjunct Bitcoin Sun
01:41:00 Oct 2017-Feb 2018 High Price Correlations
01:55:34 Saturn in Capricorn depressing price in 2018
02:04:30 Uranus re-enters Taurus 2019 begins price rise
02:15:27 The south node and decrease
02:25:25 March 2020 crash
02:31:30 April 2020 onward rebound
02:35:35 Nov 30 lunar eclipse & new all time high
02:37:00 Late 2020 transits
02:39:19 The future
02:46:43 Other cryptocurrencies
02:49:17 2021 transits and long term trends
03:01:08 How to follow Robert's work
03:04:45 The four things that could crash Bitcoin
03:06:30 Needing to be good at both astrology and finance
03:11:10 Wrapping up
Watch the Video Version of This Episode
You can watch the video version of this episode on the astrology of Bitcoin here:
–
Transcript
A full transcript of this episode is available: Episode 282 transcript
Listen to the Audio Version of This Episode
You can either play the audio version of this episode of the podcast directly from the website or download it as an MP3 to your device by using the buttons below:
Podcast: Play in new window | Download (Duration: 3:13:19 — 177.0MB)
Subscribe: Google Podcasts | RSS | More