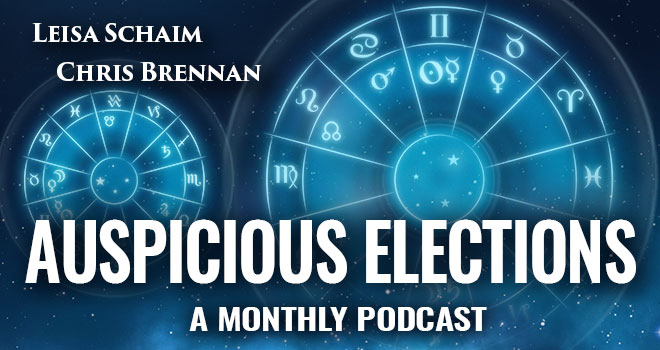 Each month Leisa Schaim and Chris Brennan produce a 45-minute podcast where we outline the top four electional charts we were able to find in the following month, using the principles of electional astrology. We call this monthly segment the Auspicious Elections Podcast.
The Auspicious Elections Podcast is a private subscriber-only podcast that is available to supporters of The Astrology Podcast who sign up to become a patron through our page on Patreon on the $5 or $10 tiers.
We usually make one of the elections we find available for free during the monthly forecast episode of The Astrology Podcast, but the rest of the elections are only available to patrons through the Auspicious Elections Podcast.
These electional charts are meant to be good general purpose elections for starting different types of ventures and undertakings, although in each instance we talk about whether a given chart would be particularly good for a particular type of activity, or whether it should be avoided for others.
The elections are given in local time, so that all you have to do is take the electional chart provided and then adjust it to fit your location, so that you have the same rising sign and Ascendant degree in the chart set for your city as what we have in ours.
The elections podcast is available in both audio and video format, which gives us some flexibility in terms of showing the charts we are talking about each month and displaying their pros and cons. We also provide PDF versions of each of the charts we have highlighted each month, as well as a write-up that outlines the main points of each chart.
You can view a preview version of one of our videos where we talk about one of the auspicious elections for November of 2018:
All you have to do to get access to the full discussion each month is sign up to become a patron of The Astrology Podcast through our page on Patreon on the $5 or $10 tier, and then you will get immediate access to the current episode of the show.
If you have any questions please email Chris at: astrologue@gmail.com